Autonomous warehouse
management and machine
feed solution
Gestión autónoma de almacén y alimentación de una o varias máquinas.
A good automation strategy can mean a great increase in our
productivity, an improvement in quality and a reduction in dependence on personnel.
A compact solution that is quick to integrate into your production processes
Our METAFLEX150 solution, an intelligent pick & place and storage system, is a pragmatic and quick first step to start achieving clear improvements to many of these problems.
METAFLEX150 is powered by the MIC automation platform. It is ready to be easily integrated into the production process and provide autonomy to one or more machines.
METAFLEX150 has a fast setting up and implementation, with a minimal impact on the day to day of the company.
The METAFLEX150 has a simple user interface, which makes its handling totally easy and intuitive, accelerating the achievement of improvements in a very short time.
Due to being configurable, the METAFLEX150 has a growth capacity that allows it to come along with the company in the evolution and growth of its processes.
The flexibility and versatility of METAFLEX150 allows it to serve different machining processes and types of parts (weight and volume).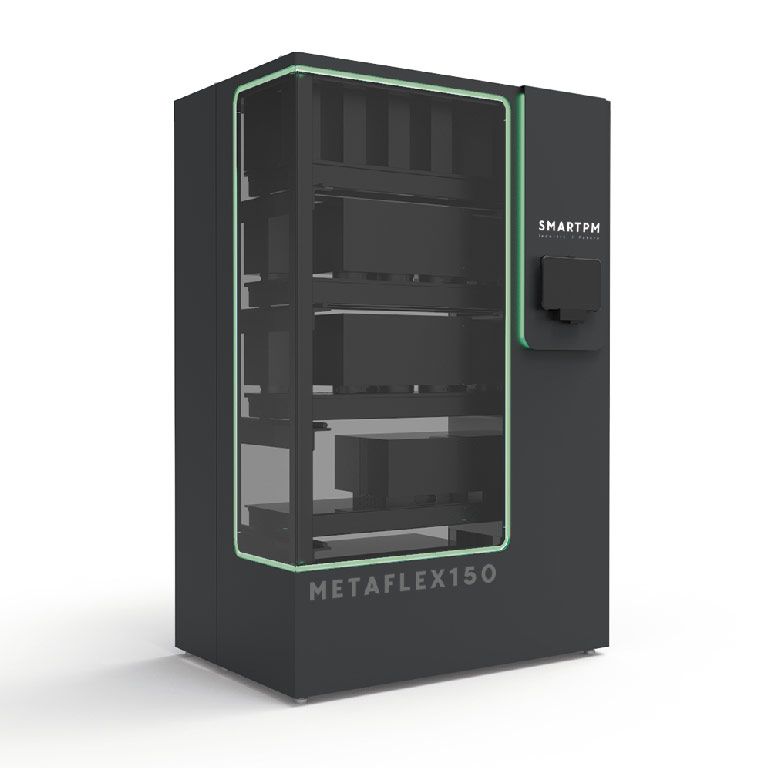 Warehouse with palletized levels
Up to 5 levels of storage adaptable to different palletizing systems.

SMARTPM storage enclosure with integrated 360º led.

Footprint 1,5 m

2. 
Single or multiple machine feed.
Preset workflows library.
Preset to integration with CMM inspection systems.
Small parts and electrodes.
Robot for loading and unloading
6 axis ABB robot.
Management of both palletized parts and tools.
Payload up to 150 kg.
Range 2,2 m.
Various pallet types supported (from 50 mm for electrodes to 320 mm for small and medium parts).
Automatic pallet type identification and griper change.
Flexible, configurable and able to expand to bigger solutions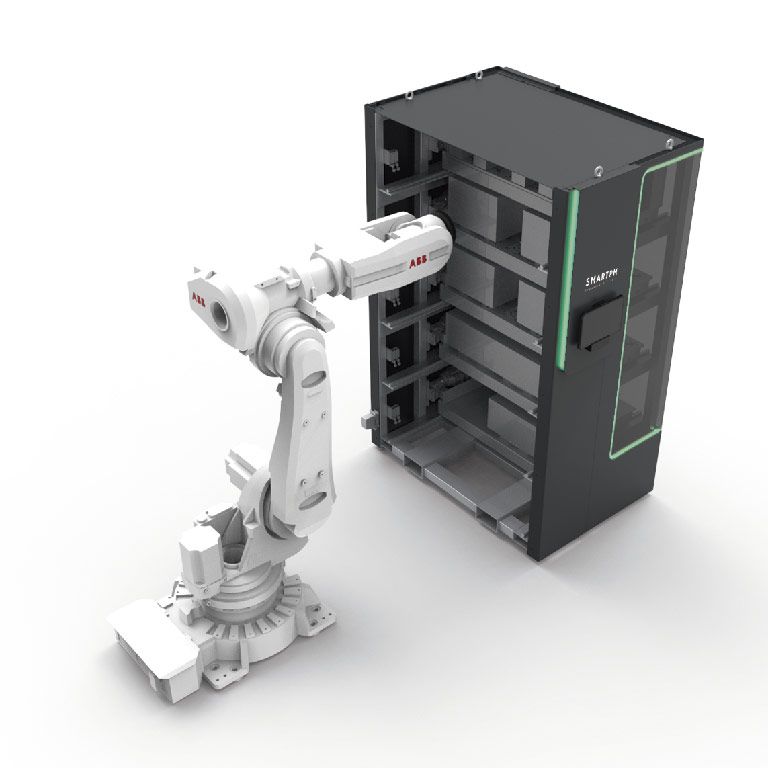 Full monitoring and traceability with MIC automation software.
Wireless and touch and  management screen.

Configurable MIC modules: Core, UI, Processes, Inspect, Data and Builder.

Maximizes the use of installed capacity and reduces downtime.
Reducción de Costes Operativos (electricidad, personal,…).
Economías de escala gracias a una mayor utilización de los activos (menores inversiones requeridas).
Menor consumo de material y reducción de residuos generados y stock (menor volumen defectivo y stock)
La solución MIC de SMARTPM se configura a través de módulos configurables por y para el usuario.
De la mano del cliente y desde nuestro conocimiento en procesos de mecanizado y metrología estudiamos en detalle los procesos y los elementos que lo conforman:
Activos físicos

Procedimientos internos y KPIs productividad

Protocolos de calidad y exigencias de demanda (takt time)

Gestión proveedores

Entorno IT vinculado y políticas de seguridad
Como resultado y en función del nivel de madurez de los procesos del cliente se propondrá un diagnostico que contemplará:
Mejoras en términos de calidad y eficiencia de proceso en general

Mejoras de las funciones de mecanizado y metrología
Las mejoras identificadas conllevarán diferentes áreas de actuación que podrán contemplar:
Determinación de los flujos de trabajo

Alineamiento de la capa IT

Implantación dinámicas de automación industrial
Etc.
En esta fase se planteará un plan de acción con diferentes subproyectos articulados en Sprints y con una evaluación preliminar del retorno esperado.
El cliente podrá priorizar y delimitar el alcance de las acciones a poner en marcha. A su vez se podrán hacer las primeras pruebas piloto en el Factory Lab de SMARTPM.
Ejecución líneas de acción prioritarias

Implantacion y configuración de la plataforma de automatización (MIC) con el alcance definido para cada cliente

Enfoque llave en mano

Acompañamiento ex post y seguimiento de impactos generados 
Desde SMARTPM además de contar con un equipo de referencia para abordar los proyectos, también se dispone de capacidades para acompañar a las empresas en las funciones de O&M, llegando incluso a contemplar la posibilidad de la gestión remota de las células automatizadas.
La implantación de nuestra solución MIC by SMARTPM contempla tanto proyectos con un alcance definido:
Pick&Place, Almacén, Robot, CNC

Pick&Place, Almacén, Robot, CNC, CMM

Pick&Place, Almacén, Robot, CNC, EDM, CMM
Como proyectos a medida del cliente que respondan a unos requerimientos específicos y cuantificables en términos de rendimientos, tiempos, etc.
Ⅰ. EQUIPO  
Ⅱ. MIC DE SMARTPM
Plataforma de software abierta y modular

Enfoque 360º: proceso / mecanizado / metrología hasta hasta el producto final, integrando IT con OT

Arquitectura flexible, robusta, escalable, y reconfigurable

Fácil de manejar / Plug & Play 

Solución guiada por procesos y productos, centrada en el usuario, y no centrada en la tecnología.

Desarrollo y mejora contínua de la plataforma
Autonomous warehouses METAFLEX150, METAFLEX300 and METAFLEX1500
The METAFLEX family offers several solutions depending on the parts storage and weight needs: 150, 300 y 1500.
Do you want to see it in operation?
Write us and we will organize a personalized live demo in our Factory Lab.